The Trump Market: Selling Your StocksUntil Tuesday Night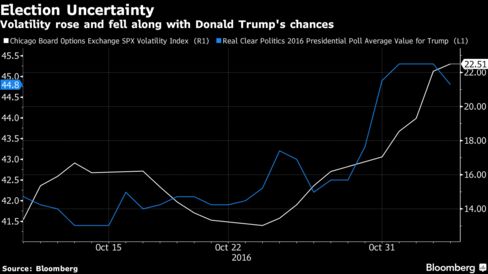 Chris, a 35-year-old technology worker in San Francisco, is terrified that Donald Trump might win on Tuesday night.
Honestly, Im pretty freaked out, he said, citing the Republican candidates praise for Russian President Vladimir Putin and the potential impact of Trumps trade and immigration stances on the U.S. and global economies. I think he could absolutely cause a depression.
So Chris (who requested anonymity for fear his last name might paint a target on my back) sold off his diversified portfolio of stocks and bonds. His whole retirement portfolio, currently at $250,000, is now in Treasury Inflation-Protected Securities, or TIPS, which are supersafe but dont provide the upside needed by someone his age saving for retirement.
Supporters of Hillary Clinton and of Trump are predicting dire consequences if their candidate loses. But the stock market has a clear favorite, evident in its surge around the world this morning on Sundays news that the FBI found no evidence in the latest pile of e-mails to warrant charges over Clintons handling of classified information. Meanwhile, demand for safe-haven assets such as Treasuries fell.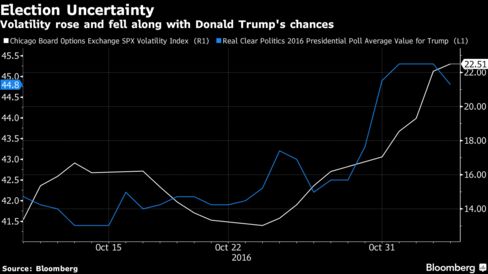 The standard advice for long-term investors is to ignore headlines and hang on for the ride. And its served them well, as long as theyve had the patience to wait, sometimes for years, for markets to recover after sharp declines. Its all about time in the market, the useful investing clich goes, not timing the market.
Still, it isnt easy to ignore risks you see looming, and it isnt necessarily irrational to worry about the worst-case scenariowhether that scenario, for you, comes in a power pantsuit or sporting an orange bouffant. Sometimes horrible things really do happen, as investors saw in 2008.
I dont mean to be a fearmonger, Chris said. We have a tendency to bury our heads in the sand. We just assume everything will be OK. (Investors much bigger than Chris are hedging their bets as well.)
Chris first sold his diversified portfolio of stocks and bonds in July. Then, when Trumps poll numbers started falling, he decided he was overreacting.
Now, although the Democrat is three points ahead of Trump in Bloombergs final national poll before the election, the race has decidedly tightened since her burst of success in the wake of the Access Hollywood tapes. Chris figures its better to take a few months off from the stock market. If Clinton wins, he reckons, he might miss out on a 5 percent to 10 percent rally, at most. The downside of a Trump election is far more significant, he said.
Raymond Chow, a 44-year-old systems analyst who lives in Windsor, Ont., is with the markets on this one, too. He generally follows Warren Buffetts value investing philosophy, buying stocks based mostly on their fundamentals and holding them for at least three or four years. But a week ago he sold two stocks, both of Canadian small-cap companies, over concerns about the effect of a President Trumps trade policies on the economy.
I know his threats are mainly toward Mexico, but Canada may face collateral damage, said Chow. His more measured reaction is reflected in his sale, which accounted for just 4 percent of his portfolio.
Its all wasted energy, said Jon Anderson, director of operations at a software consulting firm,1 who started out investing as a hobby in the early 1980s. He isnt touching his portfolio no matter what happens on Tuesday. The market is just too unpredictable to try to game it like that, he said.
At a moments notice the market could drop 20 percent and have nothing to do with Trump, Anderson said. Its an unknowable thing. He said most people who try to make such predictions end up underperforming in the end.
The 62-year-old resident of Duluth, Minn., described himself as a conservative who almost always votes Republican. This time around hes going for the Libertarian candidate, Gary Johnson, and called Trump an embarrassment. Anderson said he had absolutely no tolerance for discriminating against people.
Fees and transaction costs can make it expensive to get in and out of the market repeatedly. And if you sell your investments because youre worried about the future, you face an equally difficult decision: When do you get back in?
Chow intends to buy again by the end of the year. No matter who wins, hes hoping the market will drop at some point and give him a chance to pick up some stocks on sale.
Chris plans to buy as soon as its clear that Clinton has won, perhaps as early as Tuesday night. If Trump wins, he said, all bets are off.
Im not saying that Id start stocking cans of food in a makeshift fallout shelter in Idaho, he said. But I certainly wouldnt be in a hurry to put my money back in the market.
Read more: http://www.bloomberg.com//news/articles/2016-11-07/the-trump-market-selling-your-stocks-until-tuesday-night