Roy Moore beats Trump-backed 'Big Luther' in Alabama Republican Senate primary
Socially conservative former Alabama chief justice, one of the most controversial US politicians, was removed from state supreme court post twice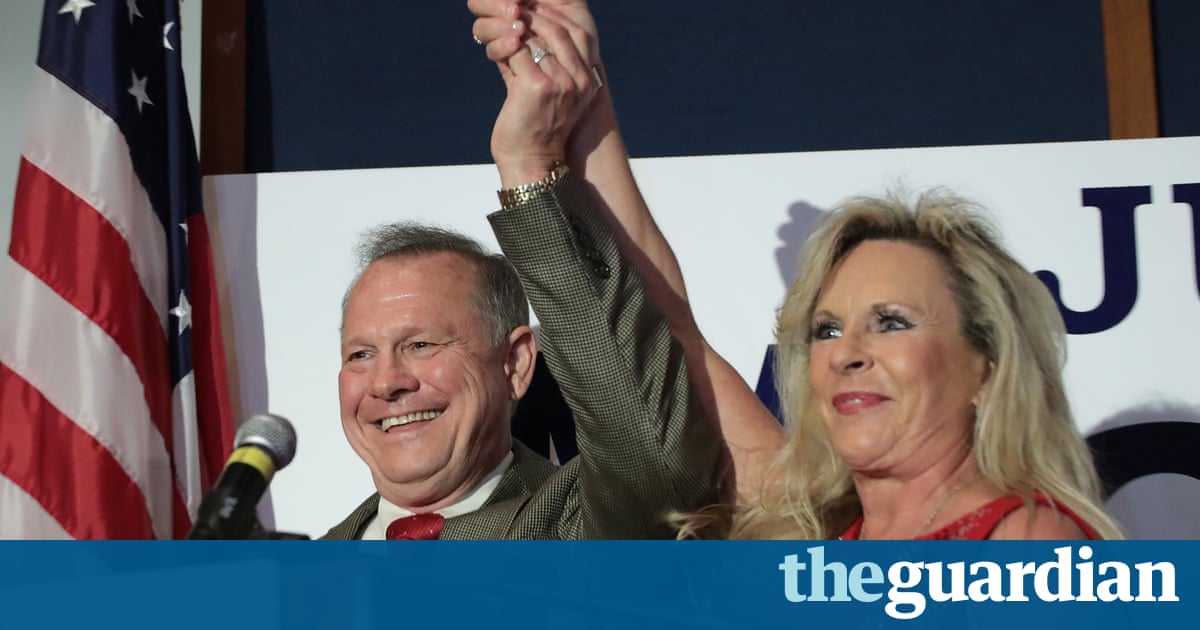 The former Alabama judge Roy Moore, one of the most controversial figures in Republican politics, is on course to become a US senator in spite of opposition from Donald Trump.
With 95%of the vote in on Tuesday night, Moore, the former chief justice of the Alabama supreme court was ahead of appointed incumbent Luther Strange by 55% to 45% in the Republican Senate runoff.
Moores victory comes despite being outspent by a margin of 10-to-1 by Strange, who had been appointed in January to the seat vacated by Jeff Sessions after his confirmation as US attorney general.
Moore was previously twice removed as Alabamas chief justice, first for for refusing to remove a monument to the Ten Commandments that he installed in the state courthouse and more recently for refusing to implement the US supreme court ruling legalizing gay marriage.
The result comes as a major blow to Senate majority leader Mitch McConnell, who had strongly backed Strange. A Super Pac closely linked to McConnell spent over $9m on behalf of the incumbent, who was considered a loyal supporter of the Senate GOP leadership.
However, Moore was able to turn McConnells opposition into an asset. In his election eve rally in a barn in Fairhope, Alabama, the loudest applause came when Moore declared: Mitch McConnell needs to be replaced.
McConnell said in a statement after the result: Senate Republicans will be as committed to keeping Alabamas seat in Republican hands with Roy Moore as we were with Luther Strange. He also noted that Moore ran a spirited campaign centered a dissatisfaction with the progress made in Washington.
Moores win will be embarrassing for Trump, who had endorsed Strange and appeared with him in a Huntsville rally on Friday. There, Trump expressed ardent support for the man he called Big Luther but left plenty of wiggle room as he mused on stage that perhaps he had made a mistake by endorsing Strange. Trump also called Moore a good man and pledged to campaign for him if he won the primary.
Despite Trumps opposition, a number of fervent Trump supporters and former White House staffers had backed Moore. These include former chief strategist Steve Bannon, who told voters at a rally for Moore that a vote for Judge Roy Moore is a vote for Donald J Trump, and housing and urban development secretary Ben Carson, who issued a statement of praise for Moore on Friday.
The consequences are likely to be harder for McConnell than for Trump. One Bannon ally told the Guardian on Tuesday night that Mitch McConnell in a Republican primary is now what Nancy Pelosi is in general elections for Democrats after Moore successfully used Stranges support from the Senate majority leader as an attack.
Stranges defeat comes only hours after Tennessee Republican Bob Corker announced his retirement. Corker, a relative moderate within the Republican caucus, had long been considered a target by Bannons populist wing of the GOP. Bannon himself appeared on stage before Moore in Montgomery and celebrated Corkers retirement.
So you all remembered we talked last night about starting a revolution with Judge Moores victory? Well, Senator Corker stepped down today and hes not going to run for re-election, announced Bannon to loud applause. He went on to say that this set the stage for more candidates who follow the model of Judge Moore and do not need to raise money from elites, fat cats, crony capitalists in Washington DC and New York City to win in the future.
Moore agreed with Bannon that his victory presaged more primary challenges for Republicans in 2018. I think it does, he told the Guardian. I agree with that comment and I think Mr Bannon knows that thats coming and I think he has a good vision of it.
Andy Surabian, the senior advisor to the Great America Alliance, a pro-Trump superPAC that backed Moore, saw the results as a precursor to further challenges to the Republican establishment in the midterms. The operative who helped orchestrate Sarah Palins appearance on behalf of Moore last week, told the Guardian that Moores win was the result of Tea Party-type conservatives making further gains within the Republican party.
This is the continuation of what we saw in 2010, said Surabian. In 2010, we saw Rand Paul and Mike Lee get elected. In 2012, we saw Ted Cruz get elected. In 2014, we saw Dave Brat get elected. In 2016 , we saw Donald Trump get elected. Now in 2017 were seeing the rise of Judge Roy Moore. Theres only going to be more Donald Trumps and Roy Moores coming in 2018.
Rand, Lee and Cruz all spoke with Moore on the phone on Tuesday night, with Cruz the first of the three to talk to the newly minted Republican nominee.
Republicans quickly embraced Moore. A McConnell-allied superPAC put out a concession statement before the Associated Press had called the race. While we were honored to have fought hard for Big Luther, Judge Roy Moore won this nomination fair and square and he has our support, as it is vital that we keep this seat in Republican hands, said the statement from the Senate Leadership Fund.
Trump himself tweeted: Congratulations to Roy Moore on his Republican Primary win in Alabama. Luther Strange started way back & ran a good race. Roy, WIN in Nov! The election, however, is in December, as Trump noted in a corrected tweet.
He added on Wednesday morning: Spoke to Roy Moore of Alabama last night for the first time. Sounds like a really great guy who ran a fantastic race. He will help to #MAGA [make America great again]!
His tweets supporting Strange from the last two days disappeared from his account.
Moore has a long history of controversial remarks. Most recently, in March, he praised the Russian president to a Guardian reporter, saying maybe Putin is right on gay marriage. He went on to add of the Russian autocrat: Maybe hes more akin to me than I know. Moore also warned in a televised debate on Thursday that sodomy [and] sexual perversion sweep the land. He also brandished a revolver on stage at a campaign rally on Monday night to rebut charges that he was soft on gun rights.
Read more: https://www.theguardian.com/us-news/2017/sep/26/alabama-senate-primary-republican-roy-moore-luther-strange